COMPASS: A Water Future Initiative – Navigating the Water Challenges of the 21st Century
On-Demand State of the Art Comprehensive Assessment of Water Resource Systems
Background
Today, there is no dearth of scientific water research, however, there is also no formal compendium of integrated and distilled knowledge that would allow member states, and different stakeholders to rally around water issues, as they have around climate (i.e. IPCC).  A comprehensive global water assessment in  near real time will assist not only in producing updated estimation of dynamic water availability and how it is distributed (spatial and temporal) but facilitate and guide water policies and decisions to achieve its maximum targeted impact at different scales.
The Sustainable Water Future Programme (Water Future), UNESCO-WWAP and its partners are planning to produce such a comprehensive assessment of water at a global and regional level which can be used for infrastructure planning for domestic, industry and agriculture water use; monitoring progress in SDG implementation; and identifies business opportunities and risks in water related sectors.
COMPASS has been designed to be a state-of-the-art digital toolbox that detects, evaluates and reports on existing, imminent, and emerging water resource challenges, from today through 2030.
It will produce indicators and indices merging the latest satellite data with model outputs, in-situ observations, and socio-economic information and citizen-data resources to produce continuously updated monthly assessments.
The COMPASS Product Suite
The Compass Product Suite encompasses a range of reports including the following:
Water Future Index – A near real time index (The index got its name from the Sustainable Water Future Programme) of the state of the global water resource based expressed in a standardised form, similar to the Dow Jones Index for market performance. The Water Future Index is continuously updated over global, regional and national domains.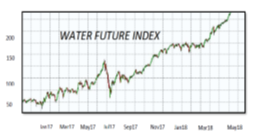 Six-Month Water Outlook – A short-term forecast of emerging conditions to identify impending water stress, valuable to emergency planners, business and agricultural communities. The outlook combines stat-of-the-art seasonal weather forecasts with projections of water use and current economic activity.

Annual State of Resource Report Card – A synthesis of contemporary spatial patterns, trends and extreme weather-related events with expert interpretations at global and sub-global scales (regional, national, sub-national).

Medium Term Water Trend – An extended projection of key water metrics, spanning both the historic MDG (from 2000) and SDG time horizons (to 2030), to assess progress or otherwise on key development imperatives dependent on the water resource base.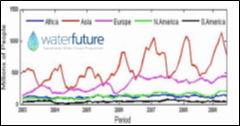 Business Intelligence Reports – Water analytics offered to subscribers who request data on emerging investment opportunities, risk maps for water dependent sectors, and opportunities for innovative water technologies.

SDG Report Card – National, regional and continental-scale assessments on SDG progress using standardized metrics and data collection protocols. Continuous monitoring supports priority-setting and effective policy decisions designed to accelerate achievement of the SDGs, particularly SDG 6 on water.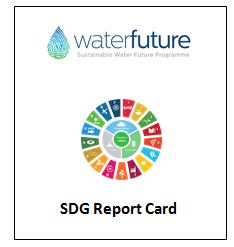 Other reports such as 'On-Demand Knowledge Synthesis Reports' are also available.
Unique Features
A Co-Design & Co-Production Process
A partnership of researchers, policymakers and the business community ensures ongoing improvement and relevance of COMPASS.
Transparency and Traceability
All Information Resources, Methodology used to create the products are in the Public Domain.
Harmonized Data
Identification, assembly and best use of existing Earth observation, socio-economic and Big-Data resources.
Timeliness
Constantly updated, over multiple time frames; monthly for contemporary conditions and six month forecasts and annually through to the 2030 SDG time horizon.
Authoritative, Standardized and Modernized
Fills an important niche in the current water assessment process by moving from ad-hoc and inconsistent water
assessments, into a systematic standardized and near real-time water intelligence product suite.
Policy Relevance
Knowledge support to the SDGs policy implementation.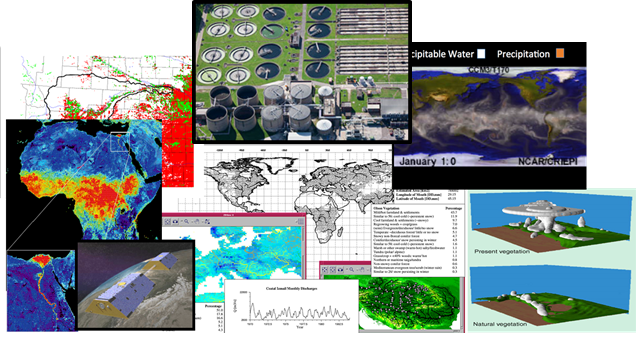 The Value of COMPASS
Better management of water resources (quantity and quality) at global, regional, and national scales.
Identification of hot spots to enable governments, businesses and individuals to act before emergency situations develop.
Create water intelligence to identify emerging business opportunities.
Support national governments and international bodies in monitoring progress and implementation of the Sustainable Development Goals.
Use of state-of-the-art science, observations, models and technologies that will become the basis of strategic, advisory and consultative services.
Improves the technical capacity of developing countries to augment their strategic water intelligence resources.
Value to the science community by identifying new opportunities for research, exposing the importance of water science to the highest levels of government to influence critical decision making.
Business Relevance by identifying risk and opportunities for private sector investment in sustainable water resource development and SDG implementation.
Tangible Information Products with Expert-produced, customized on-line data compendia, traditional publications and presentation materials for unrestricted re-use by information consumers.
COMPASS Executive
A wealth of expertise and knowledge from within, and linked to the water sector, provides the backbone behind the COMPASS initiative. The strong linkages established via the Water Future Community comprising of partners and researchers through the core and working groups, together with other associated entities are uniting to ensure the long-term success of this initiative, as a viable part of meeting the Sustainable Development Goals.
The COMPASS Executive Team are:
Charles Vörösmarty, City University Of New York, USA.
Stefan Uhlenbrook,  UNESCO-WWAP, Italy.
András Szöllösi-Nagy, Water Future, UNESCO, WWC, Hungary.
Richard Lawford, Water Future, Future Earth, Morgan State University Baltimore, Canada.
Dietrich Borchardt, Helmholtz Centre for Environmental Research, Germany.
Simon Langan, IIASA , Austria.
Marianela Fader, Centre for Water Resources and Global Change (UNESCO), Germany.
Carlo Giupponni. University of Venice, Italy.
Anik Bhaduri, Water Future, Australia.
Further Information
A design document will be presented during the World Water Forum 2018.
Interested in knowing more? Then please contact the Executive Team.