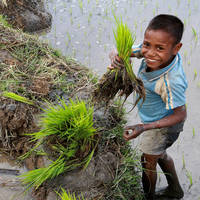 The degradation of natural resources like land and water often occurs simultaneously and leads to a lower level of ecosystem services, reducing for example the resilience of the earth system facing drought events.
The management of land and water needs to be addressed and treated jointly within a combined socio-economic and biophysical framework.
Land use and its changes are closely related to water, its availability and conservation, quality and management. While integrated water resources management (IWRM) has been identified by the community of water professionals as the most promising framework to tackle the management of the resource sustainably, the necessary integration and joint management of land and water has not been emphasized according to its real importance. The obvious physical, chemical and biological links between land and water management necessitate that this integration is well extended into and accounted for in the respective governance frames and (joint) management models, especially the ones focused on droughts.
The key objective of this event was to address and discuss the dynamics of the joint use of land and water, while focusing on the impacts, and management of droughts as well as resulting resilience of socio-ecological systems. In a panel discussion, different types of interventions based on case studies that can increase water conservation related to agricultural aspects of soil erosion during dry periods, fertility loss and irrigation have been explored.
On the basis of this discussion and the premise that a coupled systems approach to land and water management would reduce costs and increase benefits for humans and nature compared to independent integrated approaches of land and water management, we will further develop research questions needed to move towards a deeper understanding of the complex dynamics of land and water systems.
Some of the research questions that will be addressed in the side event are:
Which socio-economic, institutional and environmental factors support or constrain an integrated management of land and water resources?
What are the benefits, costs, synergies and trade-offs within such an integrated management approach?
Speakers:
Anik Bhaduri, Global Water System Project (GWSP)
Anantha Duraiappah, Inter-national Human Dimensions Programme (IHDP)
Michael Strauch, Center for Environmnetal Research (UFZ)