Opening Plenary: Sustainability in the W-E-F Nexus

moderated by Anik Bhaduri (GWSP)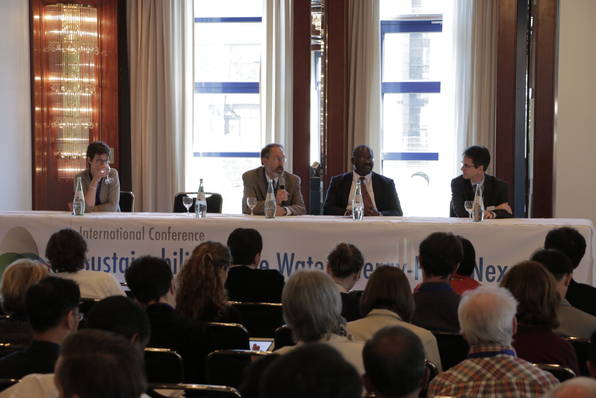 The session provided an introduction to the need for a nexus approach that reduces trade-offs and builds synergies across sectors in order to reduce costs and increase benefits for humans and nature. Instead of independent approaches to the management of water, energy, food and the environment, we need a joint global responsibility and cooperation among scientists and policy makers. Since all sectors within the Nexus rely on ecosystem services for their functioning, an ecosystem oriented nexus approach is encouraged to mediate trade-offs and explore synergies towards human well-being and healthy ecosystems.
Speakers:
Thomas Deppe on behalf of Wilfried Kraus Federal Ministry of Education and Research (BMBF), Germany: Director of the Division for Sustainability, Climate and Energy
Water research for the future – towards a sustainable nexus approach
Download (PDF, 1MB)
Thomas Chirmaba on behalf of Achim Steiner Executive Director of the United Nations Environment Programme (UNEP)
Welcome Note from UNEP
Imme Scholz Deputy Director of the German Development Institute / Deutsches Institut für Entwicklungspolitik (DIE)
Governing the Water-Energy-Food Nexus: Challenges for and Modes of Policy Coordination
Download (PDF, 161KB)
Charles Vorosmarty Chair of the Global Water System Project (GWSP)
Introducing the Sustainable Water Future Programme and its Link to the Nexus
Download (PDF, 2MB)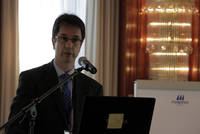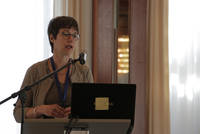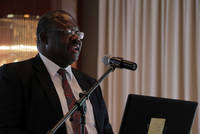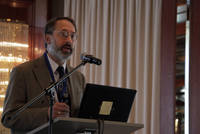 Science-Policy Link Panel
moderated by Janos Bogardi (GWSP)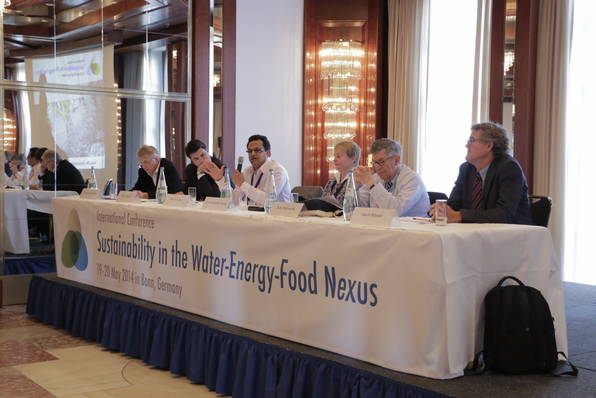 The panel addressed the sustainability of the Water-Energy-Food Nexus as a key research-for-action initiative that needs an international policy consultation process to inform, influence, and catalyze action by key stakeholders—including policymakers, non‐governmental organizations, the private sector, educators, and researchers. In particular, the panel focused on how the science policy link can be strengthened through co-design of research and solutions, though sharing available information, knowledge and action gaps, as well as viable instruments and approaches and the facilitation of networks to ultimately contribute to consensus on priorities for appropriate investment and action towards a sustainable Water-Energy-Food nexus.
Panelists:
Ursula Schafer-Preus
Chair of the Global Water Partnership (GWP)
Jakob Rhyner
Director of United Nations University Institute for Environment and Human Security (UNU-EHS)
Fritz Holzwarth
Former Deputy Director-General of the Federal Ministry for the Environment, Germany
Torkil Jonch Clausen
Chair of the Scientific Programme Committee for the World Water Week in Stockholm and Senior Adviser to the Global Water Partnership (GWP)
Geraldo Martha
Embrapa, the Brazilian Agricultural Research Corporation
Dinesh Kumar
Director of the Institute for Resource Analysis and Policy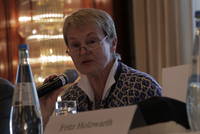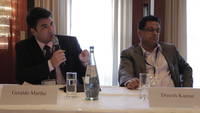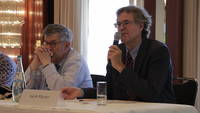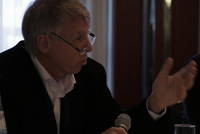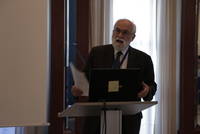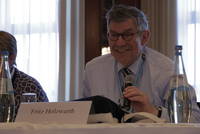 Governing the Nexus for Transformations towards a Sustainable Future
moderated by Thomas Chiramba (UNEP)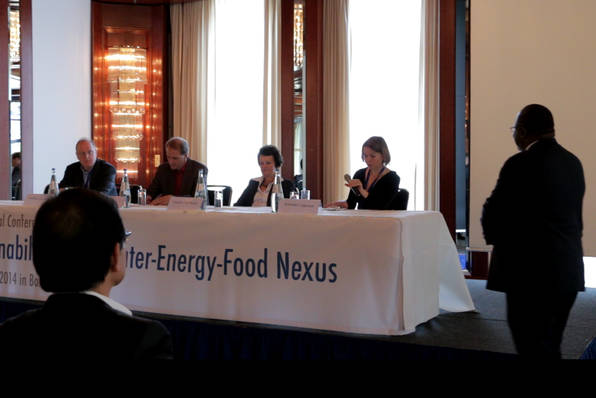 Despite strong food, water, energy and environment linkages, practitioners and policymakers continue to approach developing programs and policies in the "silos" of their respective ministries or organizations. Mechanisms must be created to raise policymakers' awareness of these issues and promote greater collaboration among ministries as well as communities, civil society, and the private sector in policy design and implementation. Institutional arrangements have to be formed at different levels in order to create an enabling environment for a paradigm shift away from disjointed ministries, programs, and policies. Instead, governance of the Nexus needs well-connected government initiatives that take into account the complexity of linkages between water, food and energy to maximize positive results and minimize harmful impacts.
Speakers:
Joachim Von Braun
Director of the Center for Development Research (ZEF)
Governing the Nexus – What and How
Download (PDF, 497KB)
Dirk Messner
Director of the German Development Institute / Deutsches Institut für Entwicklungspolitik (DIE)
Claudia Pahl-Wostl
Chair of the Global Water System Project (GWSP)
Governance of Transformation
Download (PDF, 1MB)
Annukka Lipponen
Water Convention Secretariat UNECE
Opportunities in transboundary governance to address the resource nexus
Download (PDF, 735MB)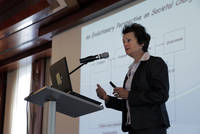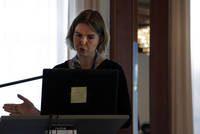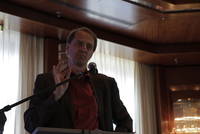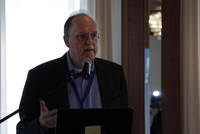 Scientific Approaches to Implementing the Nexus at Various Scales
moderated by Claudia Ringler (IFPRI)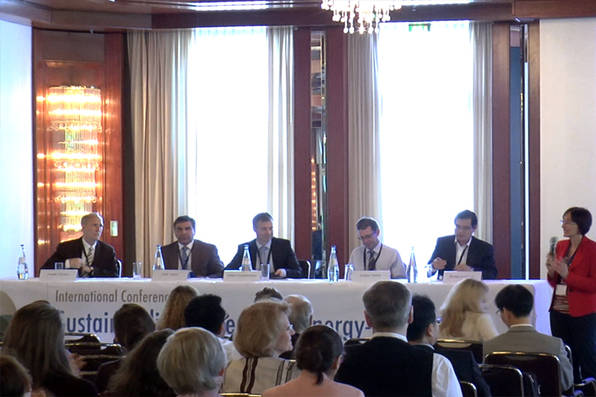 At the community level, small hydro-power and water-energy governance mechanisms could help address nexus tradeoffs. At the national level, investments in land, water and energy have to be weighed against each other. At the regional and global levels, trade, climate and energy policy are important policy arenas that need to be considered for nexus thinking. This plenary will discuss the different challenges and solutions in implementing nexus approaches at different scales and how these scales are linked with one another through synergies and trade-offs.
Speakers:
Byung-Wook Lee
President of the Korean Environment Institute (KEI)
Download (PDF, 4MB)
Andrew Noble
Director of the CGIAR Research Program on Water, Land and Ecosystems (WLE)
Download (PDF, 2MB)
Joseph Alcamo
Professor at the Center for Environmental Systems Research of the University of Kassel, Germany
Download (PDF, 547KB)
Johan Kuylenstierna
Executive Director of Stockholm Environment Institute (SEI)
Zafar Adeel
Director of the United Nations University Institute for Water, Environment and Health (UNU-INWEH)
Download (PDF, 2MB)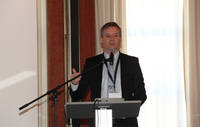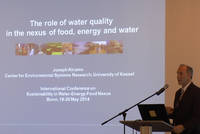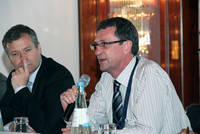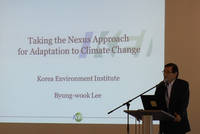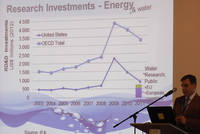 Ministerial
Panel
 on the Water, Energy and Food Security Nexus and Ecosystem Sustainability in the Post 2015 Agenda for Sustainable Development

moderated by Dr. Uschi Eid
Acting Chair, UN Secretary General's Advisory Board on Water and Sanitation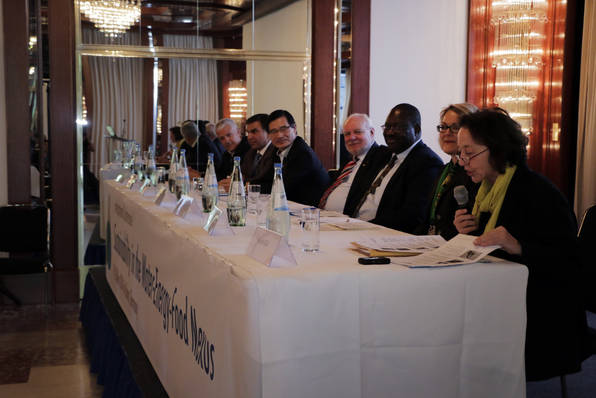 Panelists:
Dr. Zafar Adeel, Director of UNU-INWEH
Dr. Rabi Mohtar, Professor at Texas University and Founding Director of Quatar Enivironment and Energy Resource Institute
Dr. Byong-Wook Lee, Director of KEI
Dr. Thomas Chiramba, Chief of the Freshwater Ecosystem Unit in the Division of Environmental Policy Implementation of the UNEP
Dr. Helge Wendenburg, Director General, Water Management and Resource Protection BMUB
Dr. Tanja Rödiger-Vorwerk, Deputy Director General 'Sustainable Development, Natual Resources, Economic Policy and Infrastructure', BMZ