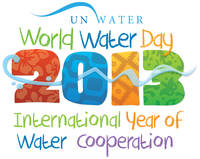 On the occasion of "World Water Day" on "Water cooperation: Challenges and opportunities" (March 22)  GWSP IPO co-organized with its partners in Bonn a panel discussion, where representatives of national ministries as well as international and UN agencies discussed latest trends.
World Water Day is held annually on March 22 to emphasize the relevance of fresh water and to promote the sustainable management of freshwater resources.
Panelists:
Sergio Zelaya, Coordinator of Policy for Advocacy on Global Issues, United Nations Convention to Combat Desertification (UNCCD)
Heide Jekel, Head of Section Cooperation in international river basins at the Federal Ministry for the Environment, Nature Conservation and Nuclear Safety (BMU).
Ben van de Wetering, Secretary General of International Commission for the Protection of the Rhine (ICPR). A video on the work of ICPR is available here.
Facilitator: Janos Bogardi, Senior Advisor of the Global Water System Project (GWSP).
About the Water Lecture :

The Water Lecture series is a joint lecture series organized by the Center for Development Research (ZEF), the Hydrological Research Group at the Geography Department (University of Bonn), the Global Water System Project, the UN-Water Decade Programme on Capacity Development (UNW-DPC) and the United Nations University (UNU-EHS) in Bonn.