New Publication: Rivers of the Anthropocene
The IUPUI Arts & Humanities Institute and the Rivers of the Anthropocene project is proud to announce the publication of Rivers of the Anthropocene. Published by University of California Press.  Rivers of the Anthropocene is available in print and also as an open access publication.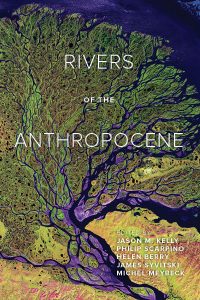 This exciting volume presents the work and research of the Rivers of the Anthropocene Network, an international collaborative group of scientists, social scientists, humanists, artists, policy makers, and community organisers working to produce innovative transdisciplinary research on global freshwater systems. In an attempt to bridge disciplinary divides, the essays in this volume address the challenge in studying the intersection of biophysical and human sociocultural systems in the age of the Anthropocene.
Featuring contributions from authors in a rich diversity of disciplines—from toxicology to archaeology to philosophy—this book is an excellent resource for students and scholars studying both freshwater systems and the Anthropocene.
Edited by Jason M. Kelly, Philip Scarpino, Helen Berry, James Syvitski, and Michel Meybeck, this book emerged from a conference held at the IUPUI Arts and Humanities Institute.

Table of Contents

Anthropocenes: A Fractured Picture
Jason M. Kelly
Part One: Methods
Part Two: Histories
An Anthropocene Landscape: Drainage Transformed in the English Fenland
Jan Zalasiewicz, Mark Williams, and Dinah Smith
A Western European River in the Anthropocene: The Seine, 1870–2010
Michel Meybeck and Laurence Lestel
Part Three: Experiences
Support for the conference and book publication came from the IU New Frontiers in the Arts and Humanities grant program, the IUPUI Library, University of Colorado, and Newcastle University.
Images and News Item Courtesy Of:
Jason Kelly 
Chair
Memory, Place, and Community in Global Water Systems Working Group