The Scientific Framework
The Global Catchment Initiative (GCI) is one of GWSP's three "Integrative Study Areas" aiming to expand the focus of river basin research and management to advance a more global perspective. It encourages researchers to address new research questions that move beyond the catchment level to highlight the relations to the wider global water system.
In addition, it seeks to advance the state of scientific understanding of the global water system through a worldwide comparative study of catchments, identifying regional feedbacks between the hydrologic system, the terrestrial environment, and the climate system. The Initiative also aims to better understand the linkages between changes in a river basin and decisions made outside the river basin by governments, companies and other institutions.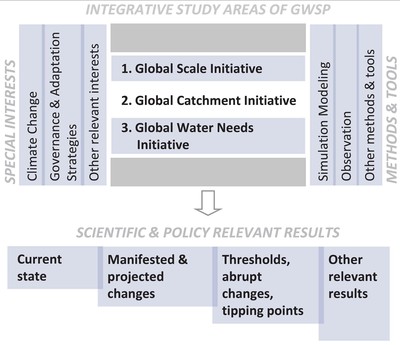 Concept Note
Please consult the concept note for additional thematic guidance (PDF, 84KB)
Conference Themes
Impact of global change on river basins 

Climate change impacts on river basins
Impacts of large-scale land use patterns and demographic changes

Long-distance connectivities and linkages of river basins 

Connectivities and linkages between river basins and the earth system
Connectivities and linkages within river basins
Virtual water flows between river basins

The role of global governance in river basin management 

Impacts of national and international actors on river basin processes
Influence of global and national governance on water resources in river basins