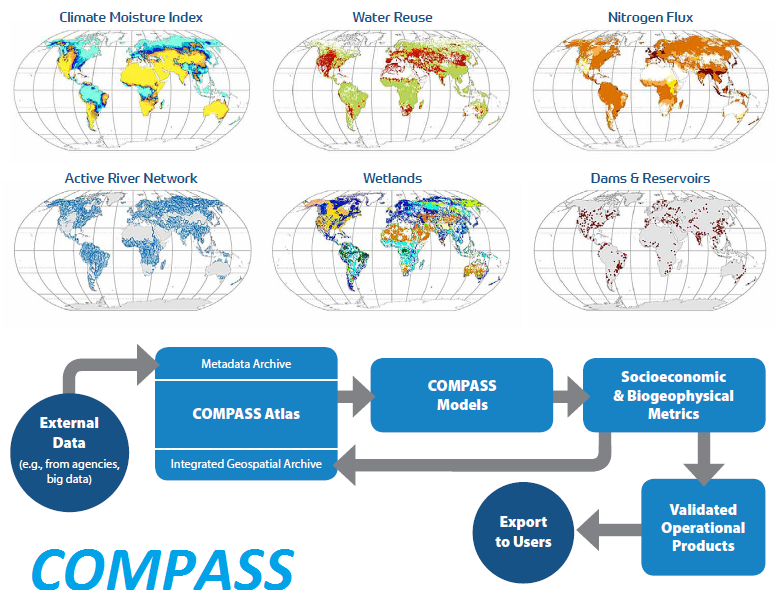 COMPASS, the Comprehensive Water Assessment, is an innovative combination of scientific knowledge, and information technology. It brings together advances to detect, evaluate and report on existing, imminent, and emerging water resource challenges around the world in a real-time framework at global and sub-global scales (regional, nation, basin, and catchment). Water Future along with other partners including UNESCO are currently designing COMPASS. COMPASS is in the advanced design phase and showcased prototype analyses and products during the recently held World Water Forum in Brasilia. There is an immediate plan to fully operationalise the products of COMPASS.
COMPASS produces indicators and indices that merge the latest satellite data with model outputs, in situ observations, socioeconomic information, and citizen data resources to produce continuously updated monthly assessments.
 Currently, Water Future is working with the World Bank in incorporating elements of COMPASS into their "Water Security Studies" that provide high-level policymakers information on priority issues related to water resources management and water service delivery, and their impacts on the economy, society, and the environment. As a pilot implementation, three South American countries (Argentina, Colombia and Peru) are selected to test COMPASS capabilities and outline the pathways for the World Bank and its regional partners to adopt COMPASS.
This work is intended to demonstrate the feasibility of applying state-of-the-art modelling capabilities combined with advanced geospatial data analysis to provide the much-needed water resources assessments and anticipate the impact of climate change scenarios on water availability in Latin America Region, with focus on Argentina, Peru and Colombia
COMPASS PRODUCT SUITE
Water State Index
A near-real-time index of the state of the global water resource base expressed in a standardized form, similar to the Dow Jones Index for market performance. The Water State Index is continuously updated over global, regional, and national domains.
Six-Month Water Outlook
A short-term forecast of emerging conditions to enable identification of impending water stress, which will be
invaluable to emergency planners, business, and agricultural practitioners. The outlook combines state-of-the-art seasonal weather forecasts with projections of water use and current and forecasted economic activity.
Annual State-of-the-Resource Report Card
A synthesis of contemporary spatial patterns, trends, and extreme weather-related events with expert interpretations at global and sub-global scales (regional, national, sub-national).
Medium-Term Water Trends
An extended projection of key water metrics, spanning both the historic UN Millennium Development Goals
(from 2000) and SDG time horizons (to 2030), to assess progress or backsliding on key development imperatives
dependent on the water resource base.
Business Intelligence Reports
Water analytics offered to subscribers who request data on emerging investment opportunities, risk maps for
water-dependent sectors, and opportunities for innovative water technologies.
SDG Report Cards
National, regional, and continental-scale assessments on SDG progress using standardized metrics and data collection protocols. Continuous monitoring supports priority-setting and effective policy decisions designed to accelerate the achievement of the SDGs, particularly SDG 6 on water.
Read More: COMPASS-Navigating the water challenges of the 21st century