International Secretariat
The International Secretariat for the Sustainable Water Future Programme (Water Future) has been established in Brisbane, Australia. It is hosted by Griffith University and is supported by  its' nodes, Water-Future Australia and Water-Future Canada, each comprised of a consortium of leading universities and organisations, respectively.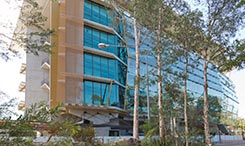 The International Secretariat is located in the Sir Samuel Griffiths Griffith Centre (N78), a six-star green energy rated building, at Nathan Campus, Griffith University in Brisbane, Australia.
The International Secretariat is managed by the Executive Director, Associate Professor Anik Bhaduri, and is supported by research, marketing, communication and administrative staff at Griffith University.
The International Secretariat plays a key role in implementing the strategic priorities of the programme and facilitating communication processes. To support Water Future's networking role, the International Secretariat functions as a node and information hub, collecting information, ensuring communication flow and organising events relevant to the entire programme.
The International Secretariat is further responsible for the dissemination of outcomes and results of the Programme's activities. Staff members represent the programme at important scientific and programmatic meetings, lobbying and initiating new activities and partnerships and fostering research activities. Equally important, the International Secretariat serves the governing body of Water Future, namely The Planning Committee, and also attends to the Scientific Committee through the coordination and implementation of decisions.
In collaboration with the Working Groups and its broader network of scientists, the International Secretariat is responsible for attracting third party funds and preparing research proposals. Communication and outreach activities for the programme are concentrated within the International Secretariat, which also supports selected activities of the projects in this realm. It's main responsibility is to provide services of crosscutting interest for the entire programme.
Anik Bhaduri
Executive Director and Member of the Planning Committee
Anik Bhaduri is the Executive Director of the Sustainable Water Future Programme ( Water Future), member of the Planning Committee and is an Associate Professor within the Australian Rivers Institute, Griffith University. Previously, he served as Executive Officer of the Global Water System Project (GWSP).  With a background in environment and natural resource economics, Anik has specialised in water resource management. He has worked on several topics and projects, ranging from transboundary water sharing to adaptive water management under climate change. Anik also serves as a senior fellow at the Centre of Development Research, University of Bonn, Germany.
Aditya K. Kaushik
Deputy Director
Aditya K. Kaushik works as a Deputy Director with the sustainable water future program where he assists in science-policy communication and outreach activities aimed at making scientific information and concepts developed by Water Future, directly useful for policymaking. He is also Associate Director of Water SolutionsLab at the Future Earth Hub in India, Indian Institute of Science's (IISc) Divecha Center for Climate Change. He is currently working on instituting Bengaluru Water Solutions Lab to address water sector-related challenges in India with an aim to developing practical solutions by bridging the gap between science and policy and between knowledge and practice while addressing sustainable development goal 6. His research interests include in the application of game theory and mechanism design in transboundary water governance and negotiations and the use of disruptive technologies such as blockchain to develop efficient, transparent and democratic urban and basin level water management systems.
Mahsa Motlagh
Researcher
Dr. Mahsa Motlagh is a senior associate in the field of water diplomacy and security. The core focus of her research is on the cross-disciplinary interface of social and environmental aspects of digital transformation, sustainable development, and capacity building in the water sector. She holds a PhD in transboundary water governance and specialized in multi-stakeholder process design and facilitation.
Nadine Painter
Institute Manager, Australian Rivers Insitute
Nadine has overall management responsibility for the financial, administrative and operational support functions of the Australian Rivers Institute and Water Future.
Holm Voight
Programme Coordinator
Holm is a geographer by training and holds a Diplom Geograph from the University of Bonn in Germany, and is currently a Junior Researcher within the Center for Development Research (ZEF). His main research interest concerns the hydrology of arid areas where he has vast field experience in Central Asia and Iran. He has been working for the Water-Future predecessor, the Global Water System Project (GWSP) 2009 – 2011 and joined again in 2015. He has been accompanying the transition from GWSP to SWFP and is now working as a contact point for the German SWFP community, facilitating interaction with the SWFP International Secretariat.
Karen Delfau
Consultant
Karen collaborates on science-policy communication and outreach activities aimed at making scientific information and concepts developed by Water Future, directly useful for policymaking. She brings a wealth of experience in collaborating with multinational policymakers and expertise in engaging with private and public corporate sectors
Chris DeBeer
Science Manager, Canada Node
Chris completed a B.Sc. (Honours) in Physical Geography at the University of Saskatchewan in 2004, an M.Sc. in Earth and Atmospheric Sciences at the University of Alberta in 2006 (supervisor: Professor Martin Sharp), and a Ph.D. in Hydrology at the University of Saskatchewan in 2012 (supervisor: Professor John Pomeroy).  He started work at the Global Institute for Water Security in December 2010 as the Institute and the Canada Excellence Research Chair in Water Security were being established at the University of Saskatchewan under the leadership of Professor Howard Wheater.  Since March 2013, Chris has worked as the project manager for the Changing Cold Regions Network, and he has served in the role of Science Manager for the Global Water Futures Programme since the fall of 2016.  Chris' research interests are on snow and glacier hydrology, hydrological modelling, and understanding and prediction of physical Earth system responses to climate variation.
Phani Adapa
Director of Operations, Canada Node
Phani Adapa is the Assistant Director for the Global Institute for Water Security (GIWS), University of Saskatchewan (UofS) and Director of Operations for the Global Water Futures (GWF) program, Canada First Research Excellence Fund. His expertise is in the area of research administration and provides strategic advice to the GIWS and GWF senior leadership teams.  He is responsible for day to day operations of the GIWS and GWF; to oversee staff performance; develop new and sustain existing collaborations with stakeholders, government agencies, non-governmental organizations, external funding agencies, industry partners; support internationalization efforts, assist and where required lead coordination and writing efforts for development of major grant applications. In addition, he is also responsible to facilitate and coordinate research and administrative efforts of the GWF community including 138 partners (Federal and Provincial Government Agencies, industries, international institutions, non-governmental and indigenous communities), and over 380 researchers from 18 Canadian universities.
Phani has Bachelor of Science (1998) and Master of Science (2001) degrees in Mechanical Engineering and a PhD degree in Chemical and Biological Engineering (2011).