Side Event Report: Budapest Water Summit 2016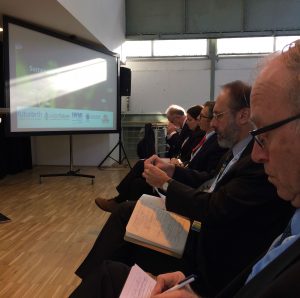 During the Budapest Water Summit, Sustainable Water Future programme organised a side event to introduce the Programme and its key initiatives of the programme along with its global partners –IWMI, IIASA.
Professor András Szöllősi-Nagy, Chair of the Planning Committee of Sustainable Water Future Programme gave an introduction of the programme and pointed out how the Programme could be a game changer in bringing forward the scientific knowledge required in the implementation of SDGs. He stressed on how to bridge the science –policy divide towards co-designing right policy that minimises the risk to achieve SDG targets. Following the introduction, Anik Bhaduri Executive director of the programme, gave an overview of activities and objectives of the programme.
The side event also organised two panel discussions. The first panel moderated by  Professor Pavel Kabat- Director General and Chief Executive Officer, International Institute for Applied Systems Analysis, discussed how  Sustainable Water Future Programme would contribute in  SDG Assessment,  what are the biggest challenges, and what could be the priorities of the programme. The panellists included Professor Charles Vorsomarty ( City Univesity of New York),  Dr Yoshihide Wada (International Institute for Applied Systems Analysis),  Mr Rick Lawford ( Sustainable  Water Future Programme),  Professor Carlo Giupponi ( University of Venice) ,  Dr Marianela Fader (International Centre for Water Resources and Global Change (UNESCO), Koblenz).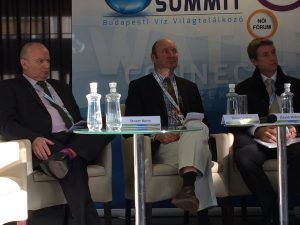 The second panel moderated by Mr Jeremy Bird, Director General IWMI, discussed on solutions through the co-production of knowledge involving scientists and other stakeholders. The panel discussed the development of the Water Solutions Lab Network and provide opportunities for discussion and feedback. The panellists included Professor Stuart Bunn ( Griffith University and Sustainable Water Future Programme),  Dr David Wiberg(International Water Management Institute),  Dr Simon Langan (International Institute for Applied Systems Analysis), Dr Dimple Roy (International Institute for Sustainable Development-IISD).
Further Information: